If you've been around the React Native scene for a while, you've probably heard of GeekyAnts as the brains (and beauty) behind NativeBase, a sleek frontend framework that allows you to use shared UI cross-platform components.
But we've done so much more since then!
Besides creating BuilderX and NativeBase Market, our React-loving team has done a host of projects for companies, both small and large. We've worked with Google, Siveco Romania, ChildMind Institute, Paypoint, and Essilor, just to name a few.
But it's our vocal, supportive, and passionate client base that really makes us stand out!
That's why we're proud to work with Clutch, a B2B ratings and review platform, to show off our feedback! Clutch uses a unique research methodology to rank service providers based on verified client reviews.
We've recently earned a 5-star review from a soccer support group app called Chant — which brings our total review count on Clutch to 10!
Chant hired us to develop the MVP of their app using their provided technical and graphic design requirements. After delivering a few private test builds, we brainstormed potential directions to move in and worked toward delivering an exceptional product.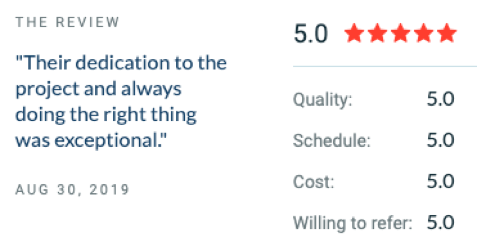 The app went live, and initial user feedback has been great!
Chant was particularly impressed with our consistent communication schedule. Every morning, we checked in with a status update to get everyone aligned and offered suggestions.
That seemed to have a big impact! In the founder's own words:
"GeekyAnts was always eager to build the best possible product, kept the end customer in mind, was conscious of budget and timeline, and quickly turned into trusted partners." — Founder, Chant
Is it possible for a tech company to blush? Because we are.
We also partnered with an aeronautical tech startup earlier this year to develop a mobile app. Our client already had the backend system ready, so we created an intuitive client-facing frontend to match.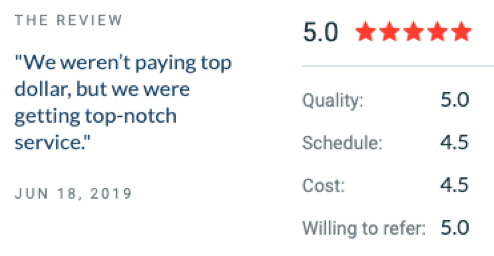 Our UI/UX designer reviewed the data that would be displayed on the app and organized it in a way that would make the most sense for users. From there, it was the classic "one-two"— development and testing.
The client was happy with our service speed since timing was key. Each time they needed to iterate, we'd have the latest edit ready to go!
We're immensely grateful to our clients for leaving such constructive feedback. Their reviews have helped us get recognized on Clutch's sister sites, too: The Manifest is a business guide that provides in-depth market research into top service providers, and we're listed on Visual Objects, a creative portfolio platform.

Still not convinced? Read more happy reviews on our Clutch profile or take a look at our testimonial page. Or if you're ready to make a move, contact us to see how we can help your project!
Hire our Development experts.